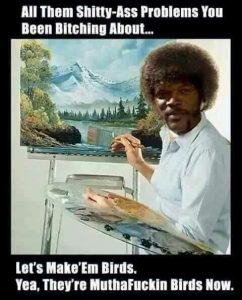 Design your life
Think of the life that you want to live. Seriously, take a few moments to close your eyes and envision your life. What does it look like? Where are you living? What car are you driving? Who is with you? What does your home look like? How do you feel?
Ok, now open your eyes. How are you going to make all of those things a reality? Be not dismayed and don't you fret. It's possible.
All you have to do is come up with a plan of action and stick to it. Write out a budget and stick to it. Cut out whatever is holding you back. Netflix is great, but if it's eating up your time then stop binge watching. Hanging out with your friends cutting into your budget? Stop it. Eat before you go out and just get something small. There are many things you can do to stay on track.
Look at that picture of Samuel L. Jackson as Bob Ross. Change your problems into birds. When something tries to block you, paint a happy tree around it. Find the silver lining in the sky and as always, find a loophole, grease up, and slide through.
You have more control of your life than you realize. It's time you start acting like it. And kick it into high gear and start using the DSP Formula.